Oh, oh the Oscars! You know, never believe it's about anything but fashion.

It's me and my blog partner here. Let's get started by recapping some of the trends.

*White

Taraji P. Henson (of Benjamin Button, Cara!), Anne Hathaway, Jessica Biel, and Sarah Jessica Parker (though she described her dress as "barely mint") are just a few of the many who chose wh
ite last night.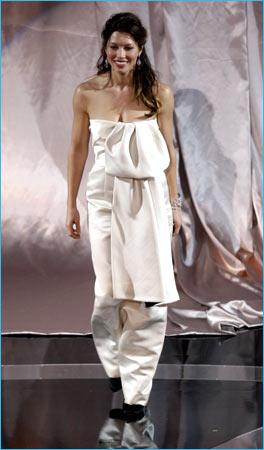 More controversially in white was Miley Cyrus: who has been called a "cream puff" and a "Disney Princess" in this Zuhair Murad ensemble among other things. Personally I think it is beautiful and age-appropriate. I also appreciate
that it is quite different from all the other (sometimes snooze worthy) gowns.
Another white-wearing gal was Penelope Cruz. If you didn't catch the television airing of the Oscars and are forced to view them online like me, I hear you may be at a loss on this dress. Apparently the detailing is gorgeous and stunning, but does not show up well in most photos. Here is the most sharply focused image we found:

Tim Gunn called this a "museum piece" and he is absolutely correct. Look at the insanely fine work cascading d
own amongst
layers
of tulle.
Lovely as a cloud was Evan Rachel Wood.
When she lays off the super-heavy Dita Von Teese makeup and puts her hair up, you can see how beautiful she really is. And though her role in The Wrestler was kinda of a less-intense reprise of her role in Thirteen, I still loved it. A lot.


Another "trend" (if we can call it that) which is always present, who knows why it just happens are:
*
Poorly fitted, awkward, just not nice gowns
Check out Meryl Streep and Heidi Klum. Something just looks weird, doesn't it? Neither among the faves.
What's that, Amanda Seyfried? You want to be included too?
Of all the Valentino gowns in all the world, you chose this one. Why? WHY?

Of course
*
Beyonce

stands in a category all her own. Donning a self-made (House of Dereon) couture mermaid -tail number, she certainly stands out.
We can't really say we like it...but we do appreciate it.

Several ladies layered on the jewelery heavily to sparkle it up.
*
Blingity Bling!


Amy Adams borrowed quite a heavy load for her outfit:

We think it complements her eyes beautifully. Natalie Portman's jewels were actually sequins in the bodice of her Grecian gown.

The color choice was unexpected for her, and it works. And then we have Alicia Keys.

The earring she is wearing (count it- ONE) accents the hair style she's chosen. Quite fierce! Mickey Rourke's necklace was an homage to his recently deceased beloved dog Loki:

The Jean Paul Gaultier look really works for him. Let's look at the pup.



He even had a specially fitted tuxedo for the pup all prepared for the big night. Poor guy didn't win the Oscar either. (GRUMBLE).
Speaking of the male population, let's check out two other notables:

Robert Downey Jr. makes a great example of what NOT to wear - the outer pockets on formal wear? No thanks. (Not to mention the sack his wife has chosen to billow around her)
In the mean time, James Franco is looking coy and hot. That's what we're talking about, folks. (His date looks good as well.)
Kate Winslett gets her own section because we can't agree. This look is out of her usual though, and at least she's thrown us that bone:



Finally, BEST AND WORST:

Best goes to Marisa Tomei. She is such a slender, darling little lady and this fabulously pleated choice was a knock-out:


That gown is timeless on her.
As far as WORST goes, we're seriously giving it to Freida Pinto for her icky lacey eighties dress. Imagine it with two sleeves. Imagine it with no sleeves. SO much better, right? The one-sleeve is just tacky, wrong, gross.